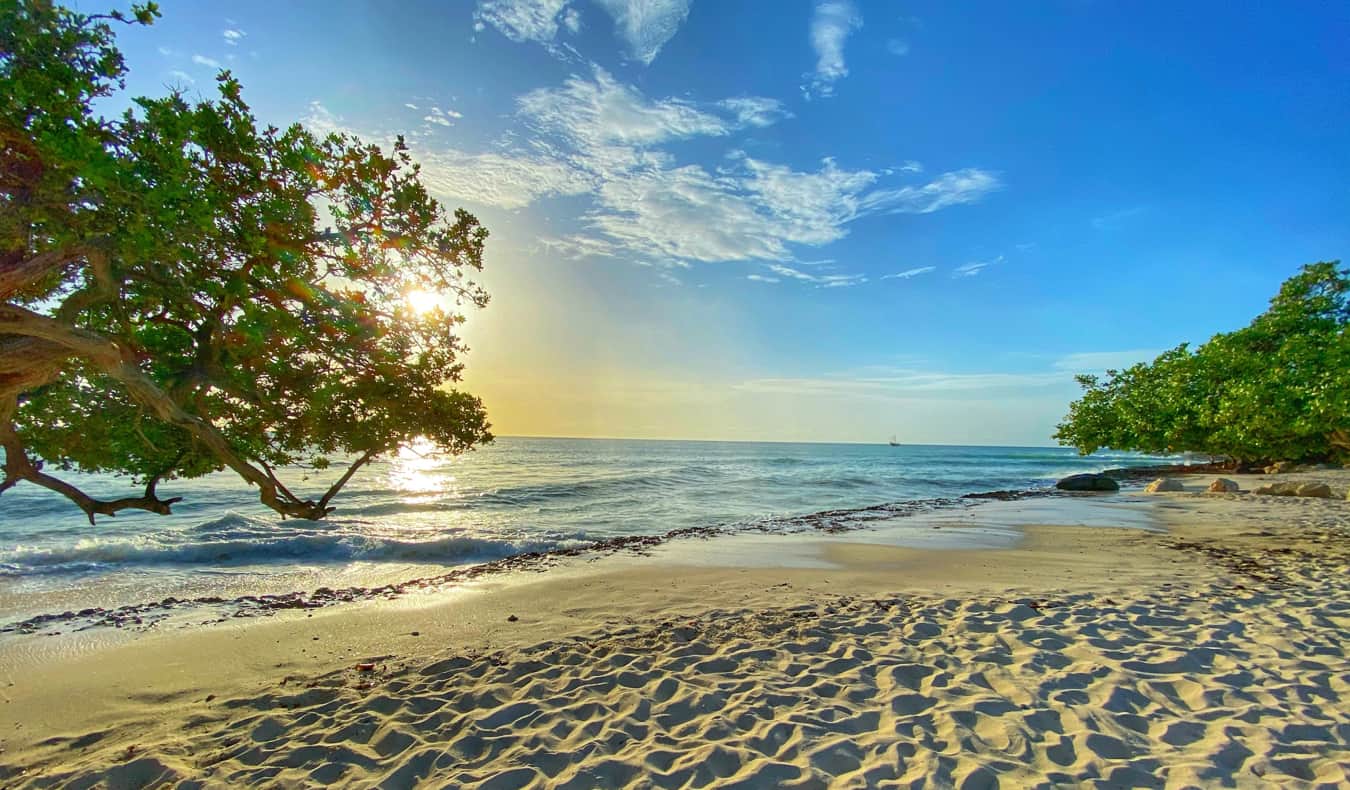 Posted: 12/12/21 | December 12th, 2021
Hello from Aruba! Another week, another country, another time zone.
I got to say that all this travel lately has been pretty tiring. I was just getting used to Europe's time zone and now I'm in Aruba. This week, it's back to NYC before heading to Austin and then Brazil for New Year's Eve. My big plan was to travel South America for the first few months of the year but my travel battery is running low and I think I am going to cut the trip short and head back to Austin.
This year has been awesome and I've loved all the travel I've done. I've found such a good balance between work, life, and travel. The secret was upgrading my accommodations. This year, I started staying in nicer guesthouses and hotels. It made a huge difference because having a good space to work from and not running around looking for Wi-Fi has made my days a lot less stressful. Knowing I had a good space to work from, I got better sleep, and my anxiety went way down.
But this travel year was temporary. My goal is still to purchase a house in the Austin area in the spring. My time in Austin in October and November made me realize it was time. My friends were joking about how I'm never around and that I should have a Google calendar so they know when I'm around to invite me to events.
That joke stung. It was true and that's why it stung. I have been gone more than I want. And their joke and the comforts of home have made me realize I'm done with my post-COVID travel burst. The spring and summer were meant for travel but the fall has turned into a jetsetting season and I'm not really happy with it. I have no travel regrets but the last few months have gone like the blink of an eye.
I've mentioned in the past I have bad allergies that always get out of whack when I travel a lot. Lately, they have been acting up and that's always the sign for me to head home and slow down. It's my body saying it's had enough.
It will be nice to have a solid week in NYC and another one in Austin to catch up on the gym, eating right, and work. I don't need to travel or run around in those destinations. They are "home." I can just relax, see friends, and enjoy all the holiday parties.
Sidenote: I love the holidays. I'm not Christian so Christmas is just another day to me but I love the Christmas season: the music, the hot wine, the holiday markets, the sense of a time passing, the holiday parties, decorations, and the sense of joy in the air. It truly is the most wonderful time of the year. I overdose on Christmas and you can bet that when I get a house I'll be decking it out for the holidays and having a plethora of ugly sweater parties.
I'm in Aruba because my good friend Steve is getting married. (Well, he got married yesterday and it was amazing. It was an intimate ceremony followed by a raging party.) This is my first time in Aruba. I always think of this island and my grandmother because she used to come here all the time to gamble with my aunt.
I had these grand plans to explore the island while I was there but I never left the resort. My friends just wanted to chill by the beach and I can't say I put up a strong counterargument. It was just incredibly relaxing to sit by the beach, be the typical tourist, have a sugary cocktail in my hand, and lounge in the sun. It's been a long, long time since I had a vacation.
Travel, exploring the world, and learning about other cultures is wonderful…but it's work. You constantly need to figure out where to go, what to eat, where to stay, etc etc. It's not easy.
Sometimes you just want a vacation and, as much as our Aruba guide needed an update, a vacation was in order.
I'm thinking I need to take one vacation a quarter. No travel, no posting online, no need to do research or attend events….just somewhere to relax, read, sit by a pool, and reset. That's going to my New Year's resolution: a vacation a quarter to reflect and relax.
I'm pretty sure I can do that.
And, yeah, that's my latest update! Hope all is well with you. Drop a comment in the Facebook group and share what you have been up to!
Don't forget to come to our holiday happy hour Q&A on the 20th! It's the last one of the year and will be holiday themed (in that I'll have a Santa hat, ugly sweaters are encouraged, and we'll be drinking wine).